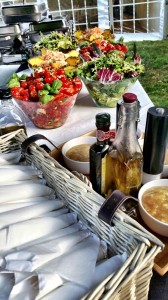 Just like the town of Cirencester itself, the hog roast cooking method has longstanding links with the past. Here at Hog Roast Cirencester, we have a great deal of respect for our heritage and we started our catering company many years ago with the aim of taking the ancient art of hog roasting to whole new levels with our modern menus, specialist equipment and flexible service style. We have worked tirelessly to hone our craft and because of our innovative approach, we have transformed the humble hog roast into a fine dining experience.
Thanks to our winning combination of traditional cooking methods and contemporary catering, not only have we firmly established ourselves as Cirencester's number one supplier of hog roasts, we can also offer complete catering packages with varied menus, for any type of event in the area.
A Hog Roast For Any Occasion
Because of the way we operate, the sky really in the limit for the Hog Roast Cirencester team. There is no location we cannot cook in and no event that we cannot cater for, it's an important factor about us that we know we can impress any customer. We can do informal buffets for family parties in your own back garden, large outdoor wedding receptions with canapes and a 3-course meal, a sophisticated soiree for a corporate event, or feed hundreds of people at a local festival.
We think about the service just as much as the food when we are planning an event and we listen closely to your requirements to ensure the ambiance and level of formality are just right for your celebration.
Menus Suitable For Any Diet
Our flexibility doesn't just stop at our ability to cater in any environment. We can also cater for any diet and we always take the time to discuss your needs in depth. We can offer you a range of different slow-roasted meats to enjoy alongside, or even instead of, one of our hog roasts. We have a stunning selection of vegetarian options for guests who don't eat meat at all and gluten-free substitutes can also be provided upon request.
Whether we are feeding 50 people or 500, every single element of the food we provide is treated with care and respect, and everything is freshly prepared at your chosen venue, using only the best locally-sourced ingredients.
Please do contact us to hear more about us and our services! Before you know it you will be tucking into a delicious hog roast roll.